Making environmentally sound choices involves looking at materials in a different way and this is especially true with jewelry. My job here is to show you how the effort to use recycled and vintage can have amazing results:

Using vintage materials goes beyond just re-using old findings - at Opulent Oddities the pieces incorporate all kinds of found objects:
an antique drawer pull with a lovely deep patina

an antique shoe buckle and chandelier crystals

antique lace

a vintage number tag

The artist was kind enough to share some of her thought!:

Why have you chosen to work only with vintage antiques materials? Because they are amazing! Nothing is like the quality that was made 100 or even 50 years ago. And I love that even if you have the same product from the same manufacturer, the way it was cared for and the way it had aged makes it so very different, and that gives it its own story, its own history. That's what really inspires me.

What is your favorite piece and why? Boy, its hard to pick! Some pieces I love because they represent a creative challenge for me. Some I love because they show a hidden side of my self, a part of my story, one I could never tell, but I can with my pieces. But my favorite is one that reminds me of my Momma:

My Momma is my biggest fan and support. She has inspired me with her creativity throughout my life and she has helped me through some of the most difficult things I've had to go through. Basically, she f--king rocks.

Is being eco-friendly part of your business or creative process? Of course! You can't deny that using old pieces that are already in existence does not help that environment by slowing the creation of new pieces. Of course, I do have to use new clasps, chains on occasion and findings, but I try to keep as much vintage in the mix as possible. I also recycle boxes, zip-locks, etc to cut down on packaging. I also don't do click and ship and use boat loads of paper/ink when I ship, I write out my addresses and go to the local post office. I know it doesn't seem like much, but I run this shop as well as a destash shop that does pretty well, so every little bit counts!

What are some particular achievements (business or artistic) that you are especially proud of? Well, I've sold to a few celebrities (saying who is rude, in my opinion, and breaks the trust of the customer), been in a publication or two, and am in boutiques around the world. What makes me happiest though, is when another artist is inspired by my work, and that happens pretty frequently. I like to make pretty things, of course, but to make inspirational things, that's an accomplishment, to me.

What I love about her pieces is that each is one-of-a-kind and the natural signs of age gone by remain. Every object has a past. It's fun to think of where they've been and who those people were that used them.Wearing one of those pieces you can continue the journey and be part of an unfolding story.

My favorite piece in her store:
Memory Garden Necklace
Being a science geek this necklace immediately made me think of another talented assemblage artist from the animal kingdom: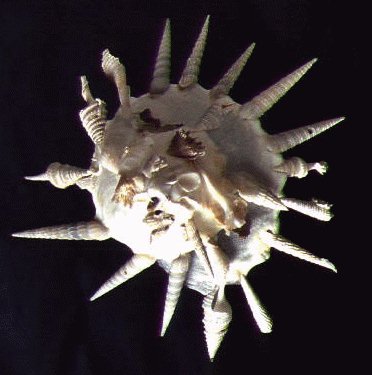 Apparently I'm not the only one to think so, check out the
Xenophora
page of the
Zymoglyphic Museum
!
Imagine what this creature would do if let loose in a church Bazaar :)
If you're looking for some treasure to start your own stories Opulent Oddities also sells vintage and antique supplies in her other store
Decadence and Decay
I love this organic antique brooch she calls "alien spermatozoa" !
Need more?

Here are other ways to get to know her:

http://twitter.com/opulentoddities
Flickr:
http://flickr.com/photos/opulentoddities/
Blog:
http://opulentodditiesblog.blogspot.com/
Thanks!